Hyedroid - Mobile Web Systems

Hyedroid is a Content management System ( CMS ) that allows users to control and administer their website / mobile site / database systems online.
Hyedroid is very flexible and can be applied to any web based system such as content management systems, product management systems, client relationship management systems...etc. The possibilities for your business are endless.
Below some screen shots of the system, showing the main website, the comtent management system and the mobile site where all the content is managed from one central system.
---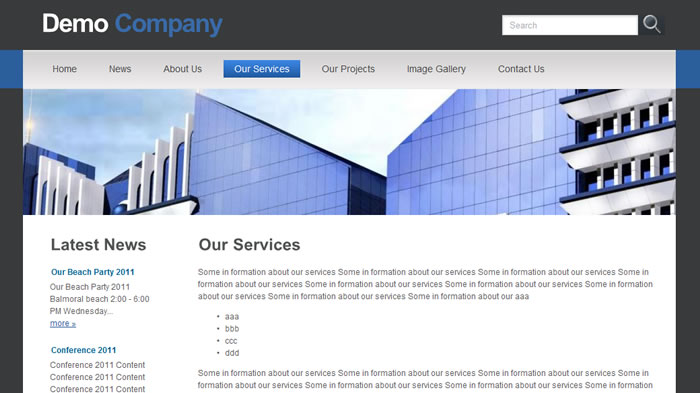 The main website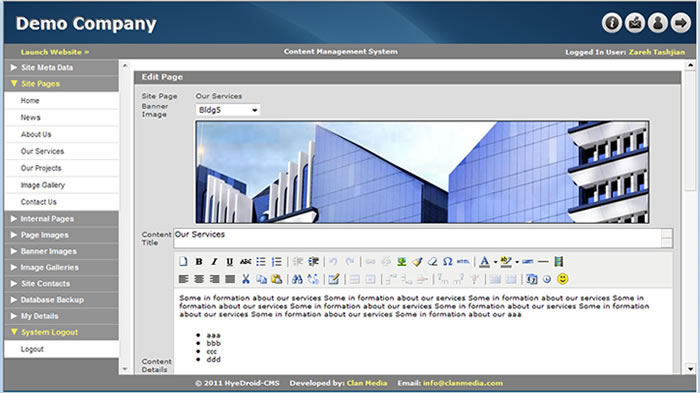 The Hyedroid CMS - Content management system for the main website
and the mobile website all in one system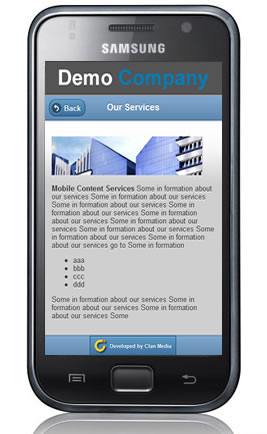 The mobile website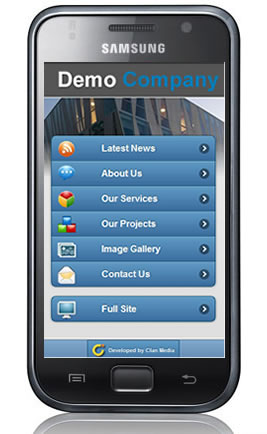 The mobile website home page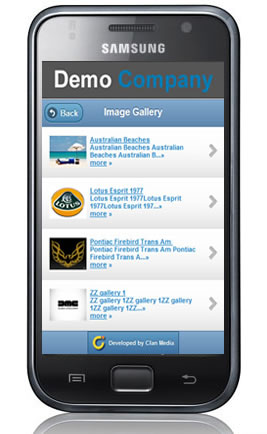 The mobile website other pages / image galleries
For Example: Penguin Limousines Mobile - A mobile version of the online limousines booking system. Users can book a limousine online via a secure booking form. An online database and a custom administration system is integrated with the website to manage the bookings, communicate with the clients and manage everything anytime and anywhere.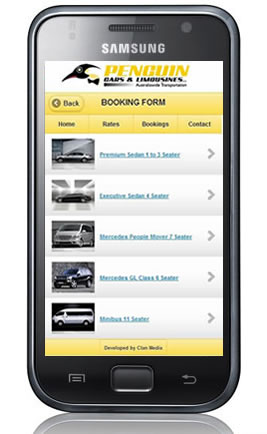 Hyedroid combined with QR codes (Quick Resonse Codes) can substantially increase the marketing of your products via smart ads that are scanned by mobile phones (using a QR code reader which is a downloadable ap). The Hyedroid application can generate a QR code (which is similar to a barcode) for any information, such as contact details or product details. This information in QR code format can then be used on websites, bulletin boards, printed in newspapers, magazines, stickers, shop front ads, wall ads, t-shirts, bus ads...etc If someone is interested in the ad, they just take out their phone and with one press of a button, they have all the information they need about it!

For more information go to:
http://www.clanmedia.com/web/qr_code.cfm

Hyedroid can be installed on your host web server. Your hosting package should have the following environment:
Windows or Linux-based operating system
IIS or Apache web server
Adobe Coldfusion 7/8/9 or Railo application server
MySQL / MS SQL or Access databases